How to Buy Cheap Radio Ads New York | 888-449-2526
Posted On
New York Cheap Advertising Rates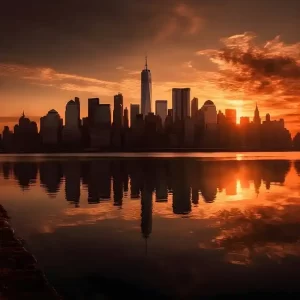 New York cheap radio advertising rates and prices are essential to know when advertising your business, event, political campaign, issues campaign or your product, service and storefront.
Radio advertising works and we offer a one-stop radio advertising option that allows you to make a single media buy to advertise on all of these radio stations for one low spot rate! (See list below) That's right! One spot means one radio commercial on every affiliated station in most every designated market area. We place a media buy on all of these stations for one low spot rate and that helps us keep your advertising costs low. Remnant rates are also available for some markets. To access this amazing radio advertising media buy, call us at 888-449-2526. We have the best radio advertising rates in all of New York.
Advertise across the entire state of New York on all major radio stations for one low spot rate and the best political rates for candidates and issues advertising. Advertise in morning drive time, afternoon drive time and get live reads, voiced reads, talent and host endorsement also.  Also, we offer online streaming radio – just ask!
Radio is the pulse of the community. People listen to the radio to find out what is happening now in their community such as special events, news, traffic updates, weather reports, sport and entertainment. Radio is influential and radio ad messages are still producing awesome results. Data evaluating the radio market in the United States shows that in 2020 radio advertising spending in the country amounted to 10.01 billion U.S. dollars. It is forecast that spending on radio ads will grow to 11.76 billion dollars by the end of 2024. Steady growth equals more revenue in your pocket. Consistent and measurable results are what counts in any advertising campaign! 
Call 888-449-2526 now and one of our media planners will contact you quickly to help you plan and price out your New York radio advertising campaign.
Most of the New York radio stations listed below allow remnant ad rates and great spot rates for direct response, branding and small business advertising. Our media planning and buying services are 100% free in most cases. Call 888-449-2526 for details and information.
List of Radio Stations for advertising in New York:
WAAL
99.1 FM
Binghamton
Townsquare Media Binghamton License, LLC
Classic rock
WABC
770 AM
New York City
Radio License Holdings LLC
News/Talk/Oldies
WABH
1380 AM
Bath
Tower Broadcasting, LLC
Sports
WABY
900 AM
Saratoga Springs
Empire Broadcasting Corporation
Adult standards
WACK
1420 AM
Newark
Waynco Radio, Inc.
News/Talk Information
WADO
1280 AM
New York City
WADO-AM License Corp.
Spanish News and Talk
WAER
88.3 FM
Syracuse
Syracuse University
Public radio
WAIH
90.3 FM
Potsdam
State University of New York
Mixed
WAIO
95.1 FM
Honeoye Falls
Citicasters Licenses, Inc.
Classic rock
WAIX
1160 AM
Mechanicville
Empire Broadcasting Corporation
Business news
WAJZ
96.3 FM
Voorheesville
6 Johnson Road Licenses, Inc.
Rhythmic contemporary
WALF
89.7 FM
Alfred
Alfred University
Variety
WALK
1370 AM
Patchogue
Connoisseur Media Licenses, LLC
Adult standards
WALK-FM
97.5 FM
Patchogue
Connoisseur Media Licenses, LLC
Adult contemporary
WALL
1340 AM
Middletown
Digital radio Broadcasting, Inc.
Regional Mexican
WAMC
1400 AM
Albany
WAMC, Inc.
Public radio
WAMC-FM
90.3 FM
Albany
WAMC, Inc.
Public radio
WAMK
90.9 FM
Kingston
WAMC, Inc.
Public radio
WANC
103.9 FM
Ticonderoga
WAMC, Inc.
Public radio
WANR
88.5 FM
Brewster
WAMC
Public radio
WANZ
90.1 FM
Stamford
WAMC, Inc.
Public radio
WAPP-LP
100.3 FM
Westhampton
Aquila Broadcasting Corp.
WAQX-FM
95.7 FM
Manlius
Radio License Holding CBC, LLC
Alternative rock
WARI-LP
98.5 FM
Rochester
New Day Global Mission
WARW
93.5 FM
Remsen
Educational Media Foundation
Christian rock (Air 1)
WARY
88.1 FM
Valhalla
Westchester Community College
Variety
WATN
1240 AM
Watertown
Community Broadcasters, LLC
News/Talk
WAUB
1590 AM
Auburn
Auburn Broadcasting, Inc.
News/Talk Information
WAVR
102.1 FM
Waverly
WATS Broadcasting, Inc.
Adult contemporary
WAXQ
104.3 FM
New York City
AMFM Radio Licenses, L.L.C.
Classic rock
WAYO-LP
104.3 FM
Rochester
MUCCC, Inc.
WBAB
102.3 FM
Babylon
Cox Radio
Classic rock
WBAI
99.5 FM
New York City
Pacifica Foundation, Inc.
Community radio
WBAR-FM
94.7 FM
Lake Luzerne
Capital Media Corporation
Christian
WBAZ
102.5 FM
Bridgehampton
LRS Radio, LLC
Adult contemporary
WBBF
1120 AM
Buffalo
Radio License Holding CBC, LLC
Spanish
WBBI
107.5 FM
Endwell
CC Licenses, LLC
Country music
WBBR
1130 AM
New York City
Bloomberg Communications Inc.
Financial News
WBBS
104.7 FM
Fulton
Citicasters Licenses, Inc.
Country music
WBDR
106.7 FM
Copenhagen
Community Broadcasters, LLC
Top 40
WBEA
101.7 FM
Southold
LRS Radio, LLC
Rhythmic contemporary
WBEE-FM
92.5 FM
Rochester
Entercom Rochester License, LLC
Country
WBEN
930 AM
Buffalo
Entercom Buffalo License, LLC
News radio
WBER
90.5 FM
Rochester
Monroe BOCES#1
Alternative radio
WBFO
88.7 FM
Buffalo
Western New York Public Broadcasting Association
Public radio
WBGK
99.7 FM
Newport Village
Roser Communications Network, Inc.
Real Country
WBKM
107.1 FM
Dannemora
Radioactive, LLC
WBKT
95.3 FM
Norwich
Townsquare Media Oneonta License, LLC
Country music
WBKX
96.5 FM
Fredonia
Chadwick Bay Broadcasting
Country music
WBLH
92.5 FM
Black River
Radioactive, LLC
Adult hits
WBLI
106.1 FM
Patchogue
Cox Radio
Top 40
WBLK
93.7 FM
Depew
Townsquare Media of Buffalo, Inc.
Urban contemporary
WBLN-LP
104.9 FM
Glens Falls
Better Living Radio, Inc.
WBLS
107.5 FM
New York City
WBLS-WLIB License LLC
Urban adult contemporary
WBMP
92.3 FM
New York City
CBS Radio East Inc.
Top 40/CHR
WBNR
1260 AM
Beacon
6 Johnson Road Licenses, Inc.
Classic country
WBNW-FM
105.7 FM
Endicott
CC Licenses, LLC
Top 40
WBNY
91.3 FM
Buffalo
State University of New York
Campus radio
WBON
98.5 FM
Westhampton
JVC Media, LLC
Spanish-language/Tropical
WBPM
92.9 FM
Saugerties
6 Johnson Road Licenses, Inc.
Classic hits
WBRV
900 AM
Boonville
The Flack Broadcasting Group L.L.C.
Oldies
WBRV-FM
101.3 FM
Boonville
The Flack Broadcasting Group L.L.C.
Country music
WBSU
89.1 FM
Brockport
State University of New York
Pop, Rock, Rap
WBTA
1490 AM
Batavia
HPL Communications, Inc.
WBTS-LP
88.5 FM
Redwood
Betterarts, Inc.
WBTZ
99.9 FM
Plattsburgh
Hall Communications
Modern rock
WBUF
92.9 FM
Buffalo
Townsquare Media of Buffalo, Inc.
Adult hits
WBUG-FM
101.1 FM
Fort Plain
Roser Communications Network, Inc.
Country music
WBWZ
93.3 FM
New Paltz
AMFM Radio Licenses, L.L.C.
Classic rock
WBXL
90.5 FM
Baldwinsville
Baldwinsville Central School District
Variety
WBZA
98.9 FM
Rochester
Entercom Rochester License, LLC
Rock
WBZO
103.1 FM
Bay Shore
Connoisseur Media Licenses, LLC
Classic hits
WCAN
93.3 FM
Canajoharie
WAMC
Public radio
WCBA
1350 AM
Corning
Great Radio, LLC
Sports
WCBS
880 AM
New York City
CBS Radio East Inc.
News
WCBS-FM
101.1 FM
New York City
CBS Radio East Inc.
Classic hits
WCDB
90.9 FM
Albany
State University of New York
Freeform/Alternative
WCDO
1490 AM
Sidney
CDO Broadcasting, Inc.
Adult contemporary
WCDO-FM
100.9 FM
Sidney
CDO Broadcasting, Inc.
Adult contemporary
WCDW
106.7 FM
Port Dickinson
Equinox Broadcasting Corp.
Classic hits
WCEB
91.9 FM
Corning
Corning Community College
Variety
WCEL
91.9 FM
Plattsburgh
WAMC
Public radio
WCGR
1550 AM
Canandaigua
The Fingerlakes Radio Group, Inc.
Country Music
WCHN
970 AM
Norwich
Townsquare Media Oneonta License, LLC
WCHP
760 AM
Champlain
Champlain Radio, Inc.
Christian
WCIH
90.3 FM
Elmira
Family Life Ministries, Inc.
Christian
WCII
88.5 FM
Spencer
Family Life Ministries, Inc.
Christian
WCIJ
88.9 FM
Unadilla
Family Life Ministries, Inc.
Christian
WCIK
103.1 FM
Bath
Family Life Ministries, Inc.
Christian
WCIO
96.7 FM
Oswego
Family Life Ministries, Inc.
Christian
WCIP
93.7 FM
Clyde
Family Life Ministries, Inc.
Christian
WCIS-FM
105.1 FM
DeRuyter
Family Life Ministries, Inc.
Christian
WCIT-FM
106.3 FM
Oneida
Family Life Ministries, Inc.
Christian
WCIY
88.9 FM
Canandaigua
Family Life Ministries, Inc.
Christian
WCIZ-FM
93.3 FM
Watertown
Stephens Media Group Watertown
Classic hits
WCJW
1140 AM
Warsaw
Lloyd Lane, Incorporated
Country Music
WCKL
560 AM
Catskill
Black United Fund of New York, Inc.
WCKM-FM
98.5 FM
Lake George
Regional Radio Group, LLC
Classic hits
WCKR
92.1 FM
Hornell
PMJ Communications, Inc.
Country music
WCLX
102.9 FM
Westport
Westport Broadcasting
AAA, progressive, blues, R&B, jazz & folk
WCMF-FM
96.5 FM
Rochester
Entercom Rochester License, LLC
Classic rock
WCNY-FM
91.3 FM
Syracuse
Public Broadcasting Council of Central New York
Classical
WCOF
89.5 FM
Arcade
Family Life Ministries, Inc.
Christian
WCOM-FM
89.3 FM
Silver Creek
Family Life Ministries, Inc.
Christian
WCOT
90.9 FM
Jamestown
Family Life Ministries, Inc.
Christian
WCOU
88.3 FM
Attica
Family Life Ministries, Inc.
Christian
WCOV-FM
89.1 FM
Friendship
Family Life Ministries, Inc.
Christian
WCPV
101.3 FM
Essex
Vox AM/FM, LLC
Sports radio
WCQL
95.9 FM
Queensbury
Regional Radio Group, LLC
Hot adult contemporary
WCSS
1490 AM
Amsterdam
WCSS IZ Communications
Classic hits
WCTW
98.5 FM
Catskill
CC Licenses, LLC
Hot adult contemporary
WCVF-FM
88.9 FM
Fredonia
Board of Trustees of State University of New York
Variety
WCWP
88.1 FM
Brookville
Long Island University Public Radio Network
Top 40, Jazz, Sports, News, Latino, Rap
WCZX
97.7 FM
Hyde Park
Townsquare Media Poughkeepsie Licenses, LLC
Hot adult contemporary
WDBA-LP
105.5 FM
Farmingdale
JCM Radio, Inc.
WDBY
105.5 FM
Patterson
Townsquare Media Danbury License, LLC
Country Music
WDCD
1540 AM
Albany
DJRA Broadcasting, LLC
Christian
WDCD-FM
96.7 FM
Clifton Park
DJRA Broadcasting, LLC
Christian
WDCX
990 AM
Rochester
Kimtron Inc
Religious Broadcasting
WDCX-FM
99.5 FM
Buffalo
Kimtron, Inc.
Religious Broadcasting
WDCZ
970 AM
Buffalo
Kimtron, Inc.
News/Talk
WDHI
100.3 FM
Delhi
Townsquare Media Oneonta License, LLC
Oldies
WDKX
103.9 FM
Rochester
Monroe County Broadcasting Co., Ltd.
Urban contemporary
WDLA
1270 AM
Walton
Townsquare Media Oneonta License, LLC
WDLA-FM
92.1 FM
Walton
Townsquare Media Oneonta License, LLC
Country Music
WDLC
1490 AM
Port Jervis
Neversink Broadcasting Company, LLC
Country
WDNB
102.1 FM
Jeffersonville
Bold Gold Media Group, L.P.
Country music
WDNY
1400 AM
Dansville
Genesee Media Corporation
Classic hits
WDOE
1410 AM
Dunkirk
Chadwick Bay Broadcasting Corporation
Classic hits
WDOS
730 AM
Oneonta
Townsquare Media Oneonta License, LLC
Country Music
WDRX-LP
100.7 FM
Cortland
Cortland Christian Radio, Inc.
Religious
WDST
100.1 FM
Woodstock
Chet-5 Broadcasting, L.P.
Adult album alternative
WDVI
100.5 FM
Rochester
Citicasters Licenses, Inc.
Hot adult contemporary
WDWN
89.1 FM
Auburn
Cayuga County Community College
Alternative
WEAV
960 AM
Plattsburgh
Vox AM/FM, LLC
Talk
WEBO
1330 AM
Owego
Radigan Broadcasting Group, LLC
Adult contemporary & News
WECK
1230 AM
Cheektowaga
Culver Communications II, Inc.
Adult standards
WECW
107.7 FM
Elmira
Elmira College
Independent
WEDG
103.3 FM
Buffalo
Radio License Holding CBC, LLC
Active rock
WEER
88.7 FM
Montauk
Eastern Tower Corp.
WEFX
100.7 FM
Henderson
Community Broadcasters, LLC
Country music
WEGB
90.7 FM
Napeague
Community Bible Church
WEGQ
91.7 FM
Quogue
Community Bible Church
WEHH
1600 AM
Elmira Hts-horsehds
Pembrook Pines Elmira, Ltd.
WEHM
92.9 FM
Southampton
LRS Radio, LLC
Adult album alternative
WEHN
96.9 FM
East Hampton
LRS Radio, LLC
Adult album alternative
WELJ
104.7 FM
Montauk
Volt Radio, LLC, as Trustee
Hot adult contemporary
WELM
1410 AM
Elmira
Pembrook Pines Elmira, Limited
Sports radio
WELV-LP
107.9 FM
Ellenville
Ellenville Central School District
Adult hits
WENE
1430 AM
Endicott
CC Licenses, LLC
Sports
WENI
1450 AM
Corning
Sound Communications, LLC
Talk radio
WENI-FM
97.7 FM
Big Flats
Sound Communications, LLC
Adult contemporary
WENT
1340 AM
Gloversville
Whitney Radio Broadcasting, Inc.
WENU
1410 AM
South Glen Falls
6 Johnson Road Licenses, Inc.
Sports
WENY
1230 AM
Elmira
Sound Communications, LLC
Talk radio
WENY-FM
92.7 FM
Elmira
Sound Communications, LLC
Adult contemporary
WEOK
1390 AM
Poughkeepsie
Townsquare Media Poughkeepsie Licenses, LLC
Regional Mexican
WEOS
89.5 FM
Geneva
Hobart and William Smith Colleges
NPR
WEPL-LP
97.1 FM
Rochester
Ibero American Action League
WEPN
1050 AM
New York City
New York AM Radio, LLC
Spanish Sports
WEPN-FM
98.7 FM
New York City
Emmis Radio License Corporation of New York
Sports
WETD
90.7 FM
Alfred
State University of New York
Variety
WEXT
97.7 FM
Amsterdam
WMHT Educational Telecommunications
Adult album alternative
WFAN
660 AM
New York City
CBS Radio East Inc.
Sports
WFAN-FM
101.9 FM
New York City
CBS Radio East Inc.
Sports
WFAS
1230 AM
White Plains
Cumulus Licensing LLC
WFBF
89.9 FM
Buffalo
Family Stations, Inc.
Religious Broadcasting
WFBL
1390 AM
Syracuse
Leatherstocking Media Group, Inc.
Talk
WFFG
100.3 FM
Warrensburg
6 Johnson Road Licenses, Inc.
Country music
WFGB
89.7 FM
Kingston
Sound of Life, Inc.
Christian
WFIZ
95.5 FM
Odessa
Saga Communications of New England, LLC
Top 40
WFKL
93.3 FM
Fairport
Stephens Media Group – Rochester, LLC
Variety Hits
WFLK
101.7 FM
Geneva
RSK Communications, Inc.
Country Music
WFLR
1570 AM
Dundee
Finger Lakes Radio Group, Inc.
Country Music
WFLY
92.3 FM
Troy
6 Johnson Road Licenses, Inc.
Top 40
WFME
1560 AM
New York City
Family Stations Inc.
Christian
WFME-FM
106.3 FM
Mount Kisco
Family Stations Inc.
Christian
WFNP
88.7 FM
Rosendale
State University of New York
College
WFNY
1440 AM
Gloversville
Michael A. Sleezer
WFRG-FM
104.3 FM
Utica
Townsquare Media Licensee of Utica/Rome, Inc.
Country
WFRH
91.7 FM
Kingston
Family Stations, Inc.
Religious broadcasting
WFRS
88.9 FM
Smithtown
Family Stations, Inc.
Religious broadcasting
WFRY-FM
97.5 FM
Watertown
Stephens Media Group Watertown
Country music
WFSO
88.3 FM
Olivebridge
Redeemer Broadcasting, Inc.
Christian
WFTU
1570 AM
Riverhead
Five Towns College
Jazz/mixed
WFUV
90.7 FM
New York City
Fordham University
Public radio, Adult album alternative
WGBB
1240 AM
Freeport
WGBB-AM, Inc.
WGCC-FM
90.7 FM
Batavia
Genesee Community College
Album-oriented rock
WGDJ
1300 AM
Rensselaer
Capital Broadcasting, Inc.
Talk radio
WGFR
92.7 FM
Glens Falls
Board of Trustees of Adirondack College
Album Adult Alternative
WGGO
1590 AM
Salamanca
Sound Communications, LLC
Talk
WGHQ
920 AM
Kingston
6 Johnson Road Licenses, Inc.
News/Talk
WGKR
105.3 FM
Grand Gorge
Sound of Life, Inc.
Christian
WGKV
101.7 FM
Pulaski
Educational Media Foundation
Contemporary Christian (K-LOVE)
WGLU-LP
106.1 FM
Newport
West Canada Christian Resources
Christian
WGMC
90.1 FM
Greece
Greece Central School District
Jazz, Ethnic
WGMM
98.7 FM
Corning
Sound Communications, LLC
Classic hits
WGNA-FM
107.7 FM
Albany
Townsquare Media of Albany, Inc.
Country Music
WGNY
1220 AM
Newburgh
Sunrise Broadcasting Corporation
Sports
WGNY-FM
98.9 FM
Rosendale
Hawkeye Communications, Inc.
Oldies
WGR
550 AM
Buffalo
Entercom Buffalo License, LLC
Sports radio
WGRF
96.9 FM
Buffalo
Radio License Holding CBC, LLC
Classic rock
WGSS
89.3 FM
Copiague
Calvary Chapel of Hope
Christian
WGSU
89.3 FM
Geneseo
State University of New York
Alternative
WGVA
1240 AM
Geneva
Geneva Broadcasting Inc.
News/Talk Information
WGWE
105.9 FM
Little Valley
Seneca Broadcasting, LLC
Full-service/classic hits
WGWR
88.1 FM
Liberty
Sound of Life, Inc.
Christian
WGXC
90.7 FM
Acra
Free103Point9
WGY
810 AM
Schenectady
CC Licenses, LLC
News/Talk radio
WGY-FM
103.1 FM
Albany
CC Licenses, LLC
News/Talk radio
WHAM
1180 AM
Rochester
Citicasters Licenses, Inc.
News/Talk
WHAZ
1330 AM
Troy
Capital Media Corporation
Christian
WHAZ-FM
97.5 FM
Hoosick Falls
Capital Media Corporation
Religious
WHCL-FM
88.7 FM
Clinton
Trustees of Hamilton College
Variety
WHCR-FM
90.3 FM
New York City
City College of New York
College
WHCU
870 AM
Ithaca
Saga Communications of New England, LLC
News/Talk
WHDL
1450 AM
Olean
Community Broadcasters, LLC
Top 40/CHR
WHEN
620 AM
Syracuse
CC Licenses, LLC
Urban adult contemporary
WHFM
95.3 FM
Southampton
Cox Radio, Inc.
Rock/Classic rock
WHIC
1460 AM
Rochester
Holy Family Communications
Religious (Catholic)
WHIH-LP
97.3 FM
Whitesboro
Lifepoint Church of the Mohawk Valley
WHLD
1270 AM
Niagara Falls
Radio License Holding CBC, LLC
Sports
WHLI
1100 AM
Hempstead
Connoisseur Media Licenses, LLC
Adult standards
WHPC
90.3 FM
Garden City
Nassau Community College
Freeform
WHRW
90.5 FM
Binghamton
State University of New York at Binghamton
Other
WHTK
1280 AM
Rochester
Citicasters Licenses, Inc.
Sports
WHTT-FM
104.1 FM
Buffalo
Radio License Holding CBC, LLC
Classic hits
WHUC
1230 AM
Hudson
CC Licenses, LLC
Adult standards
WHUD
100.7 FM
Peekskill
6 Johnson Road Licenses, Inc.
Adult contemporary
WHUG
101.9 FM
Jamestown
Media One Holdings, LLC
Country Music
WHVM
91.9 FM
Owego
Mt. St. Francis Hermitage Inc.
WHVP
91.1 FM
Hudson
Sound of Life, Inc.
Christian
WHVW
950 AM
Hyde Park
Joseph Paul Ferraro
WHWK
98.1 FM
Binghamton
Townsquare Media Binghamton License, LLC
Country Music
WHWS-LP
105.7 FM
Geneva
Hobart and William Smith Colleges
WIBX
950 AM
Utica
Townsquare Media Licensee of Utica/Rome, Inc.
News/Talk
WICB
91.7 FM
Ithaca
Ithaca College
Alternative
WICY
1490 AM
Malone
Cartier Communications Inc.
Oldies
WIFF
90.1 FM
Windsor
Calvary Chapel of Twin Falls, Inc.
WIHR-LP
94.1 FM
Jamestown
Advent Radio Ministries Corporation
Christian
WIII
99.9 FM
Cortland
Saga Communications of New England, LLC
Classic rock
WINO
89.9 FM
Odessa
Ithaca Community Radio, Inc.
WINR
680 AM
Binghamton
AMFM Radio Licenses, L.L.C.
Classic country
WINS
1010 AM
New York City
CBS Radio East Inc.
News
WINU
104.9 FM
Altamont
6 Johnson Road Licenses, Inc.
Sports (CBS)
WIOF-LP
104.1 FM
Woodstock
Birds of a Feather Media Limited
WIOX
91.3 FM
Roxbury
WSKG Public Telecommunications Council
WIRD
920 AM
Lake Placid
Radio Lake Placid, Inc.
Adult standards
WIRQ
104.7 FM
Rochester
West Irondequoit Central School District
Alternative
WIRY
1340 AM
Plattsburgh
Hometown Radio Inc.
Full service
WIRY-FM
100.7 FM
Plattsburgh West
Radioactive, LLC
Adult contemporary
WITC
88.9 FM
Cazenovia
Cazenovia College
Variety
WITH
90.1 FM
Ithaca
Hobart and William Smith Colleges
Adult album alternative/Talk
WITR
89.7 FM
Henrietta
Rochester Institute of Technology
College
WIXT
1230 AM
Little Falls
Galaxy Utica Licensee LLC
Sports/Talk
WIYN
94.7 FM
Deposit
Townsquare Media Oneonta License, LLC
Silent
WIZR
930 AM
Johnstown
Cranesville Block Company, Inc.
Hot AC
WJCA
102.1 FM
Albion
Family Worship Center Church, Inc.
WJFF
90.5 FM
Jeffersonville
Radio Catskill, Inc.
Classical music and News
WJGK
103.1 FM
Newburgh
Sunrise Broadcasting Corporation
Adult contemporary
WJIH-LP
95.9 FM
Oneonta
Spirit and Truth Christian Assembly
Christian
WJIP
1370 AM
Ellenville
CC Licenses, LLC
News/Talk
WJIV
101.9 FM
Cherry Valley
Christian Broadcasting System, Ltd.
Religious
WJJF
94.9 FM
Montauk
Red Wolf Broadcasting Corporation
WJJL
1440 AM
Niagara Falls
M.J. Phillips Communications, Inc.
1950s Oldies
WJKE
101.3 FM
Stillwater
Empire Broadcasting Corporation
Adult contemporary
WJKS
104.3 FM
Keeseville
Great Eastern Radio, LLC
Silent
WJNY
90.9 FM
Watertown
Public Broadcasting Council of Central New York
Classical
WJPZ-FM
89.1 FM
Syracuse
WJPZ Radio, Inc.
Rhythmic contemporary
WJQZ
103.5 FM
Wellsville
DBM Communications, Inc.
Oldies
WJTN
1240 AM
Jamestown
Media One Holdings, LLC
Full service/news/talk
WJUX
99.7 FM
South Fallsburg
Bridgelight, LLC
Religious
WJVC
96.1 FM
Ronkonkoma
JVC Media LLC
Country music
WJZR
105.9 FM
Rochester
North Coast Radio, Inc.
Smooth jazz/Blues
WJZZ
88.1 FM
Montgomery
Hudson Valley Public Radio, Inc.
WKAJ
1120 AM
Saint Johnsville
Cranesville Block Company, Inc.
Classic hits
WKAL
1450 AM
Rome
Tune in Broadcasting, LLC
Talk radio
WKBE
107.1 FM
Corinth
6 Johnson Road Licenses, Inc.
Top 40
WKCR-FM
89.9 FM
New York City
Trustees of Columbia University in New York
College
WKDL-FM
104.9 FM
Brockport
Brockport Licenses, LLC
K-LOVE
WKDM
1380 AM
New York City
Multicultural Radio Broadcasting Licensee, LLC
WKEG-LP
104.7 FM
Limestone
Limestone Community Radio
WKEL
88.1 FM
Webster
Educational Media Foundation
WKGB-FM
92.5 FM
Conklin
CC Licenses, LLC
Active rock
WKGS
106.7 FM
Irondequoit
Citicasters Licenses, Inc.
Rhythmic contemporary
WKHV-LP
103.9 FM
Kingston
Kingston Outreach Services
WKIP
1450 AM
Poughkeepsie
CC Licenses, LLC
News/Talk
WKJY
98.3 FM
Hempstead
Connoisseur Media Licenses, LLC
Adult contemporary
WKKF
102.3 FM
Ballston Spa
CC Licenses, LLC
Rhythmic contemporary
WKLI-FM
100.9 FM
Albany
6 Johnson Road Licenses, Inc.
Country music
WKLL
94.9 FM
Frankfort
Galaxy Utica Licensee LLC
Active rock
WKLV-FM
96.7 FM
Port Chester
Educational Media Foundation
Contemporary Christian (K-LOVE)
WKNY
1490 AM
Kingston
Townsquare Media Poughkeepsie Licenses, LLC
AC/Talk
WKOL
105.1 FM
Plattsburgh
Hall Communications, Inc.
Classic hits
WKPQ
105.3 FM
Hornell
Sound Communications, LLC
Country music
WKRB
90.3 FM
Brooklyn
Kingsborough Community College
CHR/College
WKRH
106.5 FM
Fair Haven
Galaxy Syracuse Licensee LLC
Active rock
WKRL-FM
100.9 FM
North Syracuse
Galaxy Syracuse Licensee LLC
Active rock
WKSE
98.5 FM
Niagara Falls
Entercom Buffalo License, LLC
Top 40
WKSN
1340 AM
Jamestown
Media One Holdings, LLC
Oldies
WKTU
103.5 FM
Lake Success
AMFM Radio Licenses, L.L.C.
Rhythmic AC-leaning Top 40 (CHR)
WKVJ
89.7 FM
Dannemora
American Educational Broadcasting, Inc.
K-LOVE
WKVU
107.3 FM
Utica
Educational Media Foundation
Christian
WKWV
90.1 FM
Watertown
Educational Media Foundation
K-LOVE
WKWZ
88.5 FM
Syosset
Syosset Central School District
Educational
WKXP
94.3 FM
Kingston
Townsquare Media Poughkeepsie Licenses, LLC
Country Music
WKXZ
93.9 FM
Norwich
Townsquare Media Oneonta License, LLC
Hot adult contemporary
WKYJ
88.7 FM
Rouses Point
American Educational Broadcasting, Inc.
K-LOVE
WKZA
106.9 FM
Lakewood
Cross Country Communications, LLC
Hot adult contemporary
WLDM-LP
95.7 FM
Sanitaria Springs
Living Water Ministries
WLEA
1480 AM
Hornell
PMJ Communications, Inc.
Talk radio (daytime) & Oldies (nights/weekends)
WLFK
95.3 FM
Gouverneur
Community Broadcasters, LLC
Country music
WLGZ-FM
102.7 FM
Webster
DRJO Broadcasting LLC
Classic hits
WLHV
88.1 FM
Annandale-on-Hudson
Tri-State Public Communications, Inc.
WLIB
1190 AM
New York City
WBLS-WLIB License LLC
WLIE
540 AM
Islip
Principle NY Holding Co., LLC
WLIM
1580 AM
Patchogue
Polnet Communications, Ltd.
Religious
WLIR-FM
107.1 FM
Hampton Bays
Livingstone Broadcasting, Inc.
Christian radio
WLIX-LP
94.7 FM
Ridge
Pine Barrens Broadcasting
Soft adult contemporary
WLJH
90.7 FM
Glens Falls
Sound of Life, Inc.
Christian
WLJP
89.3 FM
Monroe
Sound of Life, Inc.
Christian
WLKK
107.7 FM
Wethersfield Township
Entercom Buffalo License, LLC
Alternative rock
WLKW-FM
95.3 FM
Celoron
Cross Country Communications, LLC
Sports
WLLG
99.3 FM
Lowville
The Flack Broadcasting Group L.L.C.
Country music
WLLW
99.3 FM
Seneca Falls
Auburn Broadcasting, Inc.
Classic rock
WLNA
1420 AM
Peekskill
6 Johnson Road Licenses, Inc.
Classic country
WLNF
90.5 FM
Rapids
Lockport Community Television
WLNG
92.1 FM
Sag Harbor
Gary Sapine, Rebecca Johnson, and Raymond A. Nelson, Trustees
Oldies
WLNL
1000 AM
Horseheads
Trinity Media, Ltd.
Christian
WLOF
101.7 FM
Elma
Holy Family Communications
Religious (Catholic)
WLPP-LP
102.9 FM
Palenville
Maetreum of Cybele, Magna Mater, Inc.
WLPW
105.5 FM
Lake Placid
Radio Lake Placid, Inc.
Classic rock
WLRF-LP
94.3 FM
Binghamton
Latter Rain Network, Inc.
WLRG-LP
107.5 FM
Corning
Corning Christian Radio Corporation
Christian
WLSV
790 AM
Wellsville
DBM Communications, Inc.
Country Music
WLTB
101.7 FM
Johnson City
GM Broadcasting, Inc.
CHR
WLTW
106.7 FM
New York City
AMFM Radio Licenses, L.L.C.
Adult contemporary
WLVL
1340 AM
Lockport
Culver Communications Corp., Inc.
News/Talk Information
WLVY
94.3 FM
Elmira
Pembrook Pines Elmira, Ltd.
Top 40
WLYK
102.7 FM
Cape Vincent
Border International Broadcasting
Top 40/CHR
WLZW
98.7 FM
Utica
Townsquare Media Licensee of Utica/Rome, Inc.
Adult contemporary
WMCA
570 AM
New York City
Salem Media of New York, LLC
Christian
WMCR
1600 AM
Oneida
Leatherstocking Media Group, Inc.
News/Talk
WMFU
90.1 FM
Mount Hope
Auricle Communications
Freeform
WMHI
94.7 FM
Cape Vincent
Mars Hill Broadcasting Co. Inc.
Christian
WMHN
89.3 FM
Webster
Mars Hill Broadcasting Co. Inc.
Christian
WMHQ
90.1 FM
Malone
Mars Hill Broadcasting Co. Inc.
Christian
WMHR
102.9 FM
Syracuse
Mars Hill Broadcasting Co. Inc.
Christian
WMHT-FM
89.1 FM
Schenectady
WMHT Educational Telecommunications
Classical
WMHU
91.1 FM
Cold Brook
Mars Hill Broadcasting Co., Inc.
WMHY
88.7 FM
Richfield Springs
Mars Hill Broadcasting Co., Inc.
WMML
1230 AM
Glens Falls
6 Johnson Road Licenses, Inc.
Sports radio
WMRV
93.9 FM
Dansville
Genesee Media Corporation
Adult contemporary
WMSA
1340 AM
Massena
Stephens Media Group Massena
Oldies
WMSX
96.1 FM
Buffalo
Townsquare Media of Buffalo, Inc.
Adult contemporary
WMTQ
88.1 FM
Elmira/Corning
Holy Family Communications
Catholic
WMUD-LP
107.3 FM
Moriah
Champlain Music Appreciation Society, Inc.
Freeform
WMVN
100.3 FM
Sylvan Beach
Wolf Radio, Inc.
Rhythmic adult contemporary
WMVQ
90.5 FM
Fenner
State University of New York
Variety
WMXO
101.5 FM
Olean
Sound Communications, LLC
Top 40
WMXW
103.3 FM
Vestal
CC Licenses, LLC
Adult contemporary
WMYY
97.3 FM
Schoharie
Capital Media Corporation
Christian
WNAR-LP
100.3 FM
Arcade
Arcade Christian Broadcasting Corporation
Religious
WNBF
1290 AM
Binghamton
Townsquare Media Binghamton License, LLC
News/Talk
WNBL
107.3 FM
South Bristol Township
Citicasters Licenses, Inc.
Country
WNBM
103.9 FM
Bronxville
Cumulus Licensing LLC
Urban adult contemporary
WNBZ
1240 AM
Saranac Lake
Saranac Lake Radio, L.L.C.
WNBZ-FM
106.3 FM
Saranac Lake
Saranac Lake Radio, L.L.C.
Adult Top 40
WNCQ-FM
102.9 FM
Canton
Stephens Media Group Ogdensburg, LLC
Country music
WNDR
1340 AM
Auburn
Wolf Radio, Inc.
Classic hits
WNED-FM
94.5 FM
Buffalo
Western New York Public Broadcasting Association
Classical music
WNER
1410 AM
Watertown
Stephens Media Group Watertown
Sports
WNEW-FM
102.7 FM
New York City
CBS Radio East Inc.
Hot adult contemporary
WNGG
90.9 FM
Gloversville
Northeast Gospel Broadcasting Inc.
WNGN
91.9 FM
Argyle
Northeast Gospel Broadcasting Inc.
Contemporary Christian
WNGZ
104.9 FM
Montour Falls
Community Broadcasters, LLC
Classic rock
WNJA
89.7 FM
Jamestown
Western New York Public Broadcasting Association
Classical music
WNKI
106.1 FM
Corning
Community Broadcasters, LLC
Top 40
WNRS
1420 AM
Herkimer
Arjuna Broadcasting Corp.
Oldies
WNTQ
93.1 FM
Syracuse
Radio License Holding CBC, LLC
Top 40 Mainstream
WNYC
820 AM
New York City
New York Public Radio
Public radio
WNYC-FM
93.9 FM
New York City
New York Public Radio
Public radio
WNYE
91.5 FM
New York City
NYC Dept. of Information Technology and Telecommunications
Variety, Educational
WNYG
1440 AM
Medford
Radio Cantico Nuevo, Inc.
WNYH
740 AM
Huntington
Win Radio Broadcasting Corporation
WNYK
88.7 FM
Nyack
Nyack College
Variety
WNYO
88.9 FM
Oswego
State University of New York
College
WNYP-LP
98.7 FM
Ripley
NY State Thruway Authority
WNYQ
101.7 FM
Hudson Falls
6 Johnson Road Licenses, Inc.
Classic hits
WNYR-FM
98.5 FM
Waterloo
Lake Country Broadcasting, Inc.
Adult contemporary
WNYU-FM
89.1 FM
New York City
New York University
College
WNYV
94.1 FM
Whitehall
Pine Tree Broadcasting Company
Adult contemporary
WNYY
1470 AM
Ithaca
Saga Communications of New England, LLC
WODZ-FM
96.1 FM
Rome
Townsquare Media Licensee of Utica/Rome, Inc.
Classic hits
WOEN
1360 AM
Olean
Sound Communications, LLC
Talk
WOFX
980 AM
Troy
Capstar TX LLC
Sports/Talk
WOGM-LP
104.7 FM
Jamestown
Lighthouse Baptist Church
Religious
WOKN
99.5 FM
Southport
Pembrook Pines Elmira, Ltd.
Country Music
WOKR
1590 AM
Brockport
Genesee Media Corporation
Sports (CBS)
WOLF
1490 AM
Syracuse
Wolf Radio Inc.
Sports (FSR)
WOLF-FM
92.1 FM
Baldwinsville
Family Life Ministries, Inc.
Country music
WOLN
91.3 FM
Olean
Western New York Public Broadcasting Association
Public radio
WONY
90.9 FM
Oneonta
State University of New York
College
WOOC-LP
105.3 FM
Troy
Media Alliance
WOPG
1460 AM
Albany
Pax et Bonum, Inc.
Catholic Talk/EWTN
WOPG-FM
89.9 FM
Esperance
Pax et Bonum, Inc.
Catholic Talk/EWTN
WOR
710 AM
New York City
AMFM Radio Licenses, LLC
News/Talk
WOSR
91.7 FM
Middletown
WAMC
Public radio
WOSS
91.1 FM
Ossining
Union Free School District #1
Variety
WOSW
1300 AM
Fulton
Cram Communications, LLC
Country Music
WOTT
94.1 FM
Calcium
Community Broadcasters, LLC
Classic rock
WOUR
96.9 FM
Utica
Galaxy Utica Licensee LLC
Classic rock
WOXR
90.9 FM
Schuyler Falls
Vermont Public Radio
Classical
WPAC
98.7 FM
Ogdensburg
Stephens Media Group Ogdensburg, LLC
Oldies
WPDA
106.1 FM
Jeffersonville
Townsquare Media Poughkeepsie Licenses, LLC
Album-oriented rock
WPDH
101.5 FM
Poughkeepsie
Townsquare Media Poughkeepsie Licenses, LLC
Mainstream rock
WPDM
1470 AM
Potsdam
Waters Communications Inc.
Classic country
WPGI
100.9 FM
Horseheads
Community Broadcasters, LLC
Country Music
WPGL
90.7 FM
Pattersonville
Sound of Life, Inc.
Christian
WPIE
1160 AM
Trumansburg
Taughannock Media, LLC
Sports radio
WPIG
95.7 FM
Olean
Community Broadcasters, LLC
Country Music
WPKF
96.1 FM
Poughkeepsie
CC Licenses, LLC
Rhythmic Top 40
WPLJ
95.5 FM
New York City
Radio License Holdings LLC
Hot adult contemporary
WPNR-FM
90.7 FM
Utica
Utica College
Variety
WPOB
88.5 FM
Plainview
Plainview-Old Bethpage School District
High School Broadcasting
WPPB
88.3 FM
Southampton
Peconic Public Broadcasting
Jazz
WPTR
1240 AM
Schenectady
Empire Broadcasting Corporation
Business news
WPTY
105.3 FM
Calverton-Roanoke
JVC Media, LLC
Rhythmic adult contemporary
WPUT
90.1 FM
North Salem
Vineyard Public Radio, Inc.
WPXY-FM
97.9 FM
Rochester
Entercom Rochester License, LLC
Top 40
WPYX
106.5 FM
Albany
Capstar TX LLC
Classic rock
WQBJ
103.5 FM
Cobleskill
Townsquare Media of Albany, Inc.
Classic rock
WQBK-FM
103.9 FM
Rensselaer
Townsquare Media of Albany, Inc.
Classic rock
WQBU-FM
92.7 FM
Garden City
Univision Radio License Corporation
Regional Mexican
WQFM
107.1 FM
Hancock
The Scranton Times, L.P.
Classic rock
WQHT
97.1 FM
New York City
Emmis License Corporation of New York
Mainstream urban
WQKA-LP
92.9 FM
Pulteney
Keuka Broadcasters, Inc.
WQKE
93.9 FM
Plattsburgh
State University of New York
Freeform
WQNY
103.7 FM
Ithaca
Saga Communications of New England, LLC
Country
WQRS
98.3 FM
Salamanca
Sound Communications, LLC
Classic rock
WQRW
93.5 FM
Wellsville
Pembrook Pines Mass Media N.A. Corp.
Hot adult contemporary
WQSH
105.7 FM
Malta
Townsqure Media of Albany, Inc.
Gen-X Classic hits
WQTK
92.7 FM
Ogdensburg
Community Broadcasters, LLC
News/Talk
WQXW
90.3 FM
Ossining
New York Public Radio
Alternative
WRCD
101.5 FM
Canton
Stephens Media Group Massena, LLC
Classic rock
WRCE
1490 AM
Watkins Glen
Community Broadcasters, LLC
Classic country
WRCK
1480 AM
Remsen
Good Guys Broadcasting Corporation
Silent
WRCN-FM
103.9 FM
Riverhead
JVC Media, LLC
News/Talk
WRCR
1300 AM
Spring Valley
Alexander Broadcasting, Inc.
Adult contemporary
WRCU-FM
90.1 FM
Hamilton
Colgate University
Freeform
WREM
88.7 FM
Canton
The St. Lawrence University
Public radio
WRFA-LP
107.9 FM
Jamestown
Reg Lenna Center for the Arts, Inc.
Community radio
WRFI
91.9 FM
Watkins Glen
Ithaca Community Radio, Inc.
Community
WRFZ-LP
106.3 FM
Rochester
Rochester Free Radio, Inc.
WRGR
102.3 FM
Tupper Lake
Radio Lake Placid, Inc.
Classic rock
WRHO
89.7 FM
Oneonta
Hartwick College
Album-oriented rock
WRHU
88.7 FM
Hempstead
Hofstra University
Variety
WRHV
88.7 FM
Poughkeepsie
WMHT Educational Telecommunications
Classical
WRIP
97.9 FM
Windham
RIP Radio, LLC
Adult contemporary
WRIV
1390 AM
Riverhead
Crystal Coast Communications, Inc.
WRKL
910 AM
New City
Polnet Communications, Ltd.
WRLI-FM
91.3 FM
Southampton
Connecticut Public Broadcasting, Inc.
Public radio
WRMM-FM
101.3 FM
Rochester
Stephens Media Group – Rochester, LLC
Adult contemporary
WRNQ
92.1 FM
Poughkeepsie
CC Licenses, LLC
Adult contemporary
WRNY
1350 AM
Rome
Galaxy Utica Licensee LLC
Sports/Talk
WROC
950 AM
Rochester
Entercom Rochester License, LLC
Sports radio
WROW
590 AM
Albany
6 Johnson Road Licenses, Inc.
Oldies
WRPI
91.5 FM
Troy
Rensselaer Polytechnic Institute
College
WRPJ
88.9 FM
Port Jervis
Sound of Life, Inc.
Christian
WRRB
96.9 FM
Arlington
Townsquare Media Poughkeepsie Licenses, LLC
Alternative rock
WRRV
92.7 FM
Middletown
Townsquare Media Poughkeepsie Licenses, LLC
Alternative rock
WRSB
1310 AM
Canandaigua
Genesee Media Corporation
Sports
WRUC
89.7 FM
Schenectady
Trustees of Union College
Freeform
WRUN
90.3 FM
Remsen
WAMC
Public radio
WRUR-FM
88.5 FM
Rochester
University of Rochester Broadcast Corp.
AAA/NPR News
WRVD
90.3 FM
Syracuse
State University of New York
Public radio
WRVE
99.5 FM
Schenectady
CC Licenses, LLC
Hot adult contemporary
WRVH
89.3 FM
Clayton
State University of New York
WRVJ
91.7 FM
Watertown
State University of New York
Public radio
WRVN
91.9 FM
Utica
State University of New York
Public radio
WRVO
89.9 FM
Oswego
State University of New York
Public radio
WRVP
1310 AM
Mt. Kisco
Radio Vision Cristiana Management
WRWB-FM
99.3 FM
Ellenville
CC Licenses, LLC
Country music
WRWD-FM
107.3 FM
Highland
AMFM Radio Licenses, L.L.C.
Country music
WSBU
88.3 FM
St. Bonaventure
St. Bonaventure University
Alternative rock, Hip-hop, Classic rock
WSCP
1070 AM
Sandy Creek-Pulaski
Galaxy Syracuse Licensee LLC
WSDE
1190 AM
Cobleskill
Schoharie Broadcasting, LLC
WSEN
1050 AM
Baldwinsville
Leatherstocking Media Group
Oldies
WSEN-FM
103.9 FM
Mexico
Renard Communications Corp.
Classic hits
WSFW
1110 AM
Seneca Falls
Calvary Chapel of Twin Falls, Inc.
WSGO
1440 AM
Oswego
Galaxy Syracuse Licensee LLC
Sports radio
WSHR
91.9 FM
Lake Ronkonkoma
Sachem Central School District Holbrook
WSIA
88.9 FM
Staten Island
The College of Staten Island
Modern active rock
WSIV
1540 AM
East Syracuse
Cram Communications LLC
Christian
WSKG-FM
89.3 FM
Binghamton
WSKG Public Telecommunications Council
Public radio
WSKO
1260 AM
Syracuse
Radio License Holding CBC, LLC
Sports talk
WSKQ-FM
97.9 FM
New York City
WSKQ Licensing, Inc.
Tropical
WSKS
97.9 FM
Whitesboro
Roser Communications Network
Top 40
WSKU
105.5 FM
Little Falls
Roser Communications Network
Top 40
WSLB
1400 AM
Ogdensburg
Community Broadcasters, LLC
Sports
WSLG
90.5 FM
Gouverneur
The St. Lawrence University
WSLJ
88.9 FM
Watertown
The St. Lawrence University
Public radio (News/Talk, Classical music, AAA)
WSLL
90.5 FM
Saranac Lake
The St. Lawrence University
Public radio (News/Talk, Classical music, AAA)
WSLO
90.9 FM
Malone
The St. Lawrence University
Public radio (News/Talk, Classical music, AAA)
WSLP
93.3 FM
Saranac Lake
North Country Radio, Inc.
Adult contemporary
WSLU
89.5 FM
Canton
The St. Lawrence University
Public radio (News/Talk, Classical music, AAA)
WSLZ
88.1 FM
Cape Vincent
The St. Lawrence University
WSNN
99.3 FM
Potsdam
Waters Communications Inc.
80s Hits
WSPK
104.7 FM
Poughkeepsie
6 Johnson Road Licenses, Inc.
Top 40
WSPN
91.1 FM
Saratoga Springs
Skidmore College
Freeform
WSPQ
1330 AM
Springville
Hawk Communications, Ltd.
Classic hits
WSQA
88.7 FM
Hornell
WSKG Public Telecommunications Council
Public radio
WSQC-FM
91.7 FM
Oneonta
WSKG Public Telecommunications Council
Public radio
WSQE
91.1 FM
Corning
WSKG Public Telecommunications Council
Public radio
WSQG-FM
90.9 FM
Ithaca
WSKG Public Telecommunications Council
Public radio
WSQN
88.1 FM
Greene
WSKG Public Telecommunications Council
WSQX-FM
91.5 FM
Binghamton
WSKG Public Telecommunications Council
Public radio
WSRK
103.9 FM
Oneonta
Townsquare Media Oneonta License, LLC
Adult contemporary
WSSK
89.7 FM
Saratoga Springs
Sound of Life, Inc.
Christian
WSUC-FM
90.5 FM
Cortland
State University of New York at Cortland
Variety
WSUF
89.9 FM
Noyack
Sacred Heart University, Inc.
News/Talk/Classical music
WSUL
98.3 FM
Monticello
Watermark Communications
Adult contemporary
WSYR
570 AM
Syracuse
CC Licenses, LLC
News/Talk
WSYR-FM
106.9 FM
Solvay
CC Licenses, LLC
News/Talk
WTBD-FM
97.5 FM
Delhi
Townsquare Media Oneonta License, LLC
Adult hits
WTBQ
1110 AM
Warwick
Frank R. Truatt
WTHE
1520 AM
Mineola
Universal Broadcasting of New York, Inc.
WTKV
105.5 FM
Minetto
Galaxy Syracuse Licensee LLC
Classic rock
WTKW
99.5 FM
Bridgeport
Galaxy Syracuse Licensee LLC
Classic rock
WTLA
1200 AM
North Syracuse
Galaxy Syracuse Licensee LLC
Sports
WTLB
1310 AM
Utica
Galaxy Utica Licensee LLC
Sports/Talk
WTMI
88.7 FM
Fleming
Holy Family Communications
WTMM-FM
104.5 FM
Mechanicville
Townsquare Media of Albany, Inc.
Sports
WTNY
790 AM
Watertown
Stephens Media Group Watertown
Talk
WTOJ
103.1 FM
Carthage
Community Broadcasters, LLC
Adult contemporary
WTOR
770 AM
Youngstown
Birach Broadcasting Corporation
WTRY-FM
98.3 FM
Rotterdam
Capstar TX LLC
Classic hits
WTSC-FM
91.1 FM
Potsdam
Knight & Day Inc.
Full service, "Free-Format", College
WTSS
102.5 FM
Buffalo
Entercom Buffalo License, LLC
Hot adult contemporary
WTWK
1070 AM
Plattsburgh
Radio Broadcasting Services, Inc.
WUBJ
88.1 FM
Jamestown
Western New York Public Broadcasting Association
Public radio
WUFO
1080 AM
Amherst
MCL/MCM New York, LLC
WUMX
102.5 FM
Rome
Galaxy Utica Licensee LLC
Hot adult contemporary
WUNY
89.5 FM
Utica
PUblic Broadcasting Council of Central New York
Classical
WUSB
90.1 FM
Stony Brook
State University of New York
Freeform
WUSP
1550 AM
Utica
Good Guys Broadcasting Corporation
Silent
WUTQ-FM
100.7 FM
Utica
Roser Communications Network, Inc.
Full service (Soft adult contemporary)
WUUA
89.5 FM
Glen Spey
B. Stephen Demchuk Foundation
WUUF
103.5 FM
Sodus
Waynco Radio
Country Music
WVBR-FM
93.5 FM
Ithaca
Cornell Radio Guild, Inc.
Rock (weekdays) & Talk/Variety (weekends)
WVCR-FM
88.3 FM
Loudonville
Siena College
Variety
WVHC
91.5 FM
Herkimer
Herkimer County Community College
Variety
WVIN-FM
98.3 FM
Bath
Tower Broadcasting, LLC
Adult contemporary
WVIP
93.5 FM
New Rochelle
Hudson-Westchester Radio, Inc.
World Ethnic
WVKR-FM
91.3 FM
Poughkeepsie
Vassar College
College
WVLF
96.1 FM
Norwood
Stephens Media Group Massena
Adult contemporary
WVNV
96.5 FM
Malone
Cartier Communications Inc.
Country
WVOR
102.3 FM
Canandaigua
Citicasters Licenses, Inc.
Soft adult contemporary
WVOS
1240 AM
Liberty
Watermark Communications
Classic hits
WVOS-FM
95.9 FM
Liberty
Watermark Communications
Classic hits
WVOX
1460 AM
New Rochelle
Hudson-Westchester Radio, Inc.
WVTK
92.1 FM
Port Henry
WTVK Radio, LLC
WVTL
1570 AM
Amsterdam
Roser Communications Network, Inc.
Adult contemporary
WVTT
96.7 FM
Portville
Colonial Radio Group
Talk
WVVC-FM
88.1 FM
Dolgeville
Northeast Gospel Broadcasting Inc.
WWES
88.9 FM
Mt. Kisco
WAMC
Public radio
WWHT
107.9 FM
Syracuse
CC Licenses, LLC
Rhythmic Top 40
WWKB
1520 AM
Buffalo
Entercom Buffalo License, LLC
Sports (ESPN)
WWLE
1170 AM
Cornwall
1170 Broadcast Radio, Inc.
WWLZ
820 AM
Horseheads
Community Broadcasters, LLC
WWPR-FM
105.1 FM
New York City
AMFM Radio Licenses, L.L.C.
Urban contemporary
WWRL
1600 AM
New York City
NJ Broadcasting, LLC
WWRV
1330 AM
New York City
Radio Vision Cristiana Management Corp.
Spanish Christian Music & Teaching
WWSC
1450 AM
Glens Falls
Regional Radio Group, LLC
WWSE
93.3 FM
Jamestown
Media One Holdings, LLC
Adult contemporary
WWSK
94.3 FM
Smithtown
Connoisseur Media Licenses, LLC
Mainstream rock
WWWS
1400 AM
Buffalo
Entercom Buffalo License, LLC
WWYL
104.1 FM
Chenango Bridge
Townsquare Media Binghamton License, LLC
Top 40
WXBA
88.1 FM
Brentwood
Brentwood Union Free School District
Educational
WXHC
101.5 FM
Homer
Eves Broadcasting, Inc.
Oldies
WXIR-LP
100.9 FM
Rochester
Rochester Community TV, Inc.
WXLB
91.7 FM
Boonville
The St. Lawrence University
Public radio (News/talk, Classical music, AAA)
WXLD
89.7 FM
Lowville
The St. Lawrence University
WXLE
105.9 FM
Indian Lake
The St. Lawrence University
WXLG
89.9 FM
North Creek
The St. Lawrence University
Public radio (News/talk, Classical music, AAA
WXLH
91.3 FM
Blue Mountain Lake
The St. Lawrence University
Public radio (News/talk, Classical music, AAA
WXLL
91.7 FM
Lake Placid
The St. Lawrence University
WXLS
88.3 FM
Tupper Lake
The St. Lawrence University
Classic hits
WXLU
88.1 FM
Peru
The St. Lawrence University
Public radio (News/talk, Classical music, AAA
WXNY-FM
96.3 FM
New York City
WADO-AM License Corp.
Tropical Top 40
WXPK
107.1 FM
Briarcliff Manor
6 Johnson Road Licenses, Inc.
Adult album alternative
WXRL
1300 AM
Lancaster
Dome Broadcasting, Inc.
Country Music
WXTL
105.9 FM
Syracuse
Radio License Holding CBC, LLC
Classic rock
WXUR
92.7 FM
Herkimer
Arjuna Broadcasting Corporation
Album Rock
WXXI
1370 AM
Rochester
WXXI Public Broadcasting Council
News/Talk/Public radio
WXXI-FM
91.5 FM
Rochester
WXXI Public Broadcasting Council
Public radio
WXXY
90.3 FM
Houghton
WXXI Public Broadcasting Council
Public radio
WXZO
96.7 FM
Willsboro
Vox AM/FM, LLC
Top 40
WYAI
93.7 FM
Scotia
Educational Media Foundation
Christian
WYBY
920 AM
Cortland
Bible Broadcasting Network, Inc.
Religious
WYJB
95.5 FM
Albany
6 Johnson Road Licenses, Inc.
Adult contemporary
WYKV
94.5 FM
Ravena
Educational Media Foundation
Christian contemporary
WYLF
850 AM
Penn Yan
M B Communications, Inc.
WYOS
1360 AM
Binghamton
Townsquare Media Binghamton License, LLC
Sports/Talk
WYRK
106.5 FM
Buffalo
Townsquare Media of Buffalo, Inc.
Country Music
WYRR
88.9 FM
Lakewood
Family Worship Center Church, Inc.
WYSL
1040 AM
Avon
Radio Livingston, Ltd.
WYSX
96.7 FM
Morristown
Stephens Media Group Ogdensburg, LLC
Top 40
WYUL
94.7 FM
Chateaugay
Cartier Communications Inc.
Top 40
WYVS
96.5 FM
Speculator
Joseph C. Tesiero
WYXL
97.3 FM
Ithaca
Saga Communications of New England, LLC
Adult contemporary
WYYY
94.5 FM
Syracuse
CC Licenses, LLC
Adult contemporary
WZAD
97.3 FM
Wurtsboro
Townsquare Media Poughkeepsie Licenses, LLC
Country Music
WZCR
93.5 FM
Hudson
CC Licenses, LLC
Oldies
WZHD
97.1 FM
Canaseraga
Equinox Broadcasting Corp.
Classic hits
WZKZ
101.9 FM
Alfred
Sound Communications, LLC
Country Music
WZNE
94.1 FM
Brighton
Stephens Media Group – Rochester, LLC
Alternative
WZNY-LP
98.3 FM
Fairport
Grace Bible Fellowship, Incorporated
WZOZ
103.1 FM
Oneonta
Townsquare Media Oneonta License, LLC
Classic hits
WZRC
1480 AM
New York City
Multicultural Radio Broadcasting Licensee, LLC
WZUN
102.1 FM
Phoenix
Galaxy Syracuse Licensee LLC
Classic hits
WZXP
97.9 FM
Au Sable
Radioactive, LLC
WZXV
99.7 FM
Palmyra
Calvary Chapel of the Finger Lakes, Inc.
Christian