Advertising Rates and Media Kits for Any Advertising Platform – 888-449-2526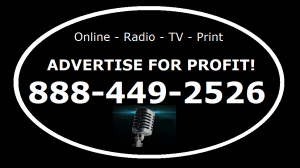 Advertising Rates and Media Kits
for Any Advertising Platform
Remnant radio advertising rates, Remnant TV ad rates, Remnant Connected TV ads.  Cable news channels, Magazines, Newspapers and online display. Advertising on newspaper and magazine websites can be a real boost for generating positive ROI – Call 888-449-2526 for a free consultation. Political campaign planning, issues advertising deals on FOX News, CNN and others like MSNBC and Bloomberg too. Advertising and political campaign consulting also available for some issues and candidates. Political advertising rates and rules available here for all 50 States!
Rates and remnant stand by print advertising available for many offers also… Print advertising still works great for ROI if you get a great price! – Just ask and we'll see if you qualify for these awesome discounted advertising rates! Wholesale advertising on radio, TV and print – including local or nationally syndicated media.
Advertise on the top media platforms in the USA for less than you think! Call for a free media plan, rates and media kits on iHeart, Pandora, Rush Limbaugh, Sean Hannity, Fox News and many more!
If you have an APP – smartphone APP or any Digital product you want to market to a national or Global marketplace – We can help! National radio and TV advertising campaigns work great for making APP Launches a huge success. Let us plan your marketing and advertising launch for any new iPhone and Android App's. If you have funding for any App – Are planning a launch or releasing the App to the public – Reach out to us at 888-449-2526 and we'll help make your App a household name! FAST!

Now offering advertising packages and great deals – rates and Media kits for NewsMax TV and their websites and dedicated email lists! Also offering advertising deals and Host Endorsements on the Dan Bongino show and other amazing radio shows, TV shows and Podcasts – Call for rates, remnant rate options and details!

Radio and TV advertising remnant rates, wholesale and unsold inventory ad space for local and national radio media buys and campaigns available CALL NOW! 888-449-2526. TV, Online Display and Dedicated email advertising available too!
TV Commercials made $899 and up! Radio ads $349 and up!
(Scripts and outside voices add to cost)
 Call 888-449-2526 For a Complimentary Advertising Campaign Analysis!
Political advertising specialists. Get the best political advertising rates for radio, TV and online or print. If you are a candidate or advertising an issues campaign we have expert political media buyers standing by to help your political candidate win or help your political message penetrate the masses. Call 888-449-2526 to place ads for any political advertising effort or candidate, national office or local is okay! Our political advertising campaigns for radio and TV advertising are legendary and we can help candidates and issues advertisers deliver winning ad campaigns – direct marketing successes and increased ROI. Check out our one stop shopping media buys for radio in all 50 states. Call 888-449-2526!
If you want to hire truck drivers – we offer several great advertising options to help transportation and trucking companies recruit new drivers. Call today for a free advertising plan to hire new employees – we have some amazing options for you!
How to buy advertising on the radio and on TV in the United States and Canada. Call today for the Most affordable radio and TV advertising rates, lowest costs and best remnant radio and TV advertising deals in the USA. 888-449-2526 for immediate service! Free Media Planner here!
Call us for advertising rates and low prices on Sirius XM and Road Dog radio. We'll help your trucking company find drivers fast!
Many of our services are 100% free to paid advertisers
Get rates, remnant ad rates, rate cards, media kits and FREE proposals. Let us do the work for you! Most of our media buying services are free to paid advertisers, including ad script writing and radio ad production.  You can focus on running your business and we'll do all the busy work for you. The media outlets give us an agency discount so the media buying services are cost free to you. So relax and let us do the work! Ask about long form block time and radio infomercials also. Fully produced half hour radio shows starting at just $499.00. Advertisement is the best way small businesses can succeed!
Get rates for radio advertising, TV advertising, Online display advertising, social media advertising including Facebook, Twitter, Pinterest, You Tube and get great rates on Google Ad-Words advertising, Google display advertising and national TV and radio remnant pricing and rates also. Call today for a FREE Media plan! Lowest cost, best rates, cheapest radio and TV ads in the USA.
THE MEDIA STARS: Radio celebrities and hosts who offer endorsed ad campaigns

Advertising campaigns placed locally or on National radio networks such as Premiere radio, Cumulus, Westwood One – with amazing personalities like The Clay Travis and Buck Sexton Show, Sean Hannity, Glenn Beck, Ryan Seacrest, Steve Harvey,  Michael Savage, Mark Levin, George Noory – just to name a few. Call 888-449-2526 to schedule your ad buys. Media Kits and rate cards available for you here!
Let us show you what we can do! Also ask about great sports hosts and stations including Colin Cowherd and Dan Patrick, even Jim Rome. Fox sports radio, ESPN and Sirius XM are all partners we work with regularly. Celebrity endorsements available for approved offers. Many local radio personalities in virtually every DMA Market offer some form of live on-air ad read or personality endorsement. Please call for more details 888-449-2526.
Buying Remnant Advertising
Demand is high for remnant advertising. Placement as it is usually much cheaper than the rate card. Remnant radio advertising can be accessed for national and local campaigns based available inventory.
We access national and regional radio advertising space for clients who want  the ability to purchase unsold radio advertising avails at lower rates than can be found on rate cards or by calling radio stations directly.
What is Remnant?
As an agency, we offer remnant media buying, advertising space that is unsold and as such is made available to us at a huge discount off of normal rate cards. Usually last second inventory available close to airtime. We have access due to our relationships with our broadcast partners in all 50 States and Canada.
Why Remnant?
Buying remnant radio advertising allows for testing of radio with a much smaller investment and lower risk. For current radio advertisers. Including remnant media in your media buy helps lower the  overall cost per unit. For Direct Response campaigns, some of our media partners will work hard to get you the results you desire.  You pay less in the end for the sales, leads and calls or web traffic generated.
Advertise on the radio in over 3000 cities and all 50 United States and all of Canada Radio stations, TV Stations – Plus national radio and TV advertising – Cable TV Rates and media buys available as well:
Cheap Low Cost TV Spots and Commercials Here!
We also do Media Buys for national and local television campaigns. National and local cable TV remnants are also available here!
How Much Does Television Advertising Cost?
Get rates, pricing and costs here with your free media plan!
The cost of running television ads varies, depending on if your ad runs on local stations, cable or national networks. The real cost of your ad can be calculated by tracking how much it costs to convert a lead into a client. Add the total cost of production and the number of ad slots your ad airs in, then divide that amount by the number of customers you convert to determine the average conversion cost.
Production
Production costs to create a commercial range in price – Our ads start at $899.00. Or we can farm out large creative projects where cost can run into hundreds of thousands of dollars. According to Entrepreneur.com,. Local television stations typically charge up to $1,500 to create a 30-second commercial. National commercials produced by an advertising agency cost far more, averaging $342,000 for a 30-second spot in 2008, according to the American Association of Advertising Agencies.
National Spots
National advertising commercials used to be beyond the budget of most small companies, especially during popular televised events such as the Super Bowl. But we have amazing work a round's to help by accessing remnant or unsold inventory. According to Time, the 30-second commercials that ran during the 2011 Super Bowl cost an average of $3.5 million per spot. Popular television programs such as American Idol pull in approximately $475,000 per 30-second spot, according to Ad-Week. Even less popular nationally televised programs, says Ad-Week, often cost in excess of $100,000 for a 30-second spot in 2011. We can place national TV spots for a fraction of that cost in most cases.
Local Spots
Most television stations offer two minutes of local advertising per hour, giving small businesses a more affordable way use TV ads as part of their marketing strategy. Rates vary depending on the time of day and year as well as your location. If your target market is most likely to see your ad during the local news, you may pay anywhere from $400 to $1,500 for a 30-second spot. Commercials that run between the prime viewing hours between 6 to 7 p.m. cost the most.
Cutting Costs
To cut costs, First look at remnants and Cable as the prices are much lower. Make sure you use a professional, agency like Ho Hum Media Inc. To help you choose the programs your target market is most likely to watch. We now which days they watch television the most. For example, working adults would more likely watch television at nights or on weekends than during the day. For our clients, we negotiate the best spot prices available. We offer you access to low cost production of your ad and rarely require a long-term contract. We have other methods to help keep costs down, run a few 15-second commercials for branding purposes and use 30-second ads to convince prospects to take action or 60's for direct response TV campaigns..
• Advertising Television
• Advertising Business Free
• Advertising Media
• TV Commercial
• How to Calculate the CPM for Television
Let us show you a better way to deliver your political campaign message! To get incredible political advertising options for your campaign – call 888-449-2526 NOW!