Talk Radio Advertising Rates Statewide on Missouri radio stations 888-449-2526
Posted On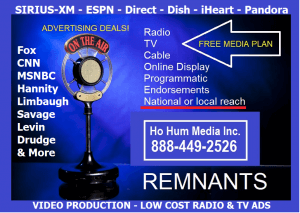 Missouri Radio advertising rates and prices are important when advertising your business, event, political campaign, issues campaign or your product, service and storefront across the entire State of Missouri.
Talk Radio advertising works well in Missouri and we offer a one stop radio advertising option that allows you to make a single media buy in Missouri to advertise on all of these talk radio stations for one low spot rate! (See list below) That's right! One spot means one radio commercial on every affiliated news talk station in most every DMA in Missouri.
We place a media buy on all of these stations for one low
spot rate and that helps us keep your advertising costs low – remnant rates are also available for some markets. To access this amazing radio advertising Media, buy in Missouri call now! 888-449-2526 or contact us through the portals offered on this page. Thanks! We have the best radio advertising rates in all of Missouri.
Advertise across the entire state of Missouri on all major news and news talk radio stations for one low spot rate and the best political rates for candidates and issues advertising. Advertise in morning drive time, afternoon drive time and get live reads, voiced reads talent and host endorsement also. Plus – your ads in Missouri will be heard on all of the big syndicated radio host shows such as Rush Limbaugh, Sean Hannity, Dave Ramsey. Glenn Beck, Michael Savage, Laura Ingraham, Mark Levin, Delilah, Kim Kommando, and many more across the state of Missouri. Also, we offer online streaming radio in Missouri – just ask!
Advertise on these Talk, news talk, Christian and spoken word Missouri radio stations now! Get all of these stations at one time for one low rate! (Lists and rates subject to change without notice).
| | | | | |
| --- | --- | --- | --- | --- |
| WBGZ-AM | Alton | St. Louis | 1570 | Talk |
| KREI-AM | Farmington | St. Louis | 800 | Talk |
| KFTK-FM | Florissant/St Louis | St. Louis | 97.1 | Talk |
| WJBM-AM | Jerseyville/Carrollton | St. Louis | 1480 | Talk |
| KFMO-AM | Park Hills | St. Louis | 1240 | News/Talk |
| KTTR-AM | Rolla | St. Louis | 1490 | Talk |
| KTTR-FM | St James/Rolla | St. Louis | 99.7 | Talk |
| KMOX-AM | St Louis | St. Louis | 1120 | News/Talk |
| KTUI-AM | Sullivan | St. Louis | 1560 | News/Talk |
| KYRO-AM | Troy | St. Louis | 1280 | Talk |
| KLPW-AM | Union/Washington | St. Louis | 1220 | News/Talk |
| KCMO-AM | Kansas City | Kansas City | 710 | Talk |
| KMBZ-AM | Kansas City | Kansas City | 980 | Talk |
| KCXL-AM | Liberty/Kansas City | Kansas City | 1140 | Talk |
| KSIS-AM | Sedalia | Kansas City | 1050 | Talk |
| WEGR-F2 | Arlington | Memphis | 102.7 | News/Talk |
| KLCN-AM | Blytheville | Memphis | 910 | Talk |
| KWAM-AM | Memphis | Memphis | 990 | Talk |
| WREC-AM | Memphis | Memphis | 600 | News/Talk |
| KJMT-FM | Calico Rock/Mountain Home | Little Rock-Pine Bluff | 97.1 | Talk |
| KCAB-AM | Dardanelle/Russelville | Little Rock-Pine Bluff | 980 | Talk |
| KCGS-AM | Marshall | Little Rock-Pine Bluff | 960 | Talk |
| KGGF-AM | Coffeyville | Tulsa | 690 | News/Talk |
| KFAQ-AM | Tulsa | Tulsa | 1170 | Talk |
| KRMG-AM | Tulsa | Tulsa | 740 | News/Talk |
| KSAL-AM | Salina | Wichita-Hutchinson Plus | 1150 | News/Talk |
| WHO-AM | Des Moines | Des Moines-Ames | 1040 | News/Talk |
| KFAB-AM | Omaha | Omaha | 1110 | News/Talk |
| KMA-AM | Shenandoah | Omaha | 960 | Talk |
| KSGF-FM | Ash Grove/Springfield | Springfield, MO | 104.1 | News/Talk |
| KSWM-AM | Aurora | Springfield, MO | 940 | Talk |
| KRZK-FM | Branson | Springfield, MO | 106.3 | Talk |
| KBNN-AM | Lebanon | Springfield, MO | 750 | News/Talk |
| KELE-AM | Mountain Grove | Springfield, MO | 1360 | News/Talk |
| KRMS-AM | Osage Beach | Springfield, MO | 1150 | Talk |
| KSGF-AM | Springfield | Springfield, MO | 1260 | News/Talk |
| KWTO-AM | Springfield | Springfield, MO | 560 | Talk |
| KJPW-AM | Waynesville | Springfield, MO | 1390 | Talk |
| KWPM-AM | West Plains | Springfield, MO | 1450 | News/Talk |
| KAPE-AM | Cape Girardeau | Paducah-Cape Girardeau-Harrisburg | 1550 | Talk |
| KZIM-AM | Cape Girardeau | Paducah-Cape Girardeau-Harrisburg | 960 | Talk |
| WCIL-AM | Carbondale/Marion | Paducah-Cape Girardeau-Harrisburg | 1020 | News/Talk |
| WJPF-AM | Herrin/Marion | Paducah-Cape Girardeau-Harrisburg | 1340 | News/Talk |
| WCMT-AM | Martin | Paducah-Cape Girardeau-Harrisburg | 1410 | Talk |
| WNGO-AM | Mayfield | Paducah-Cape Girardeau-Harrisburg | 1320 | Talk |
| WINI-AM | Murphysboro/Carbondale | Paducah-Cape Girardeau-Harrisburg | 1420 | Talk |
| WMIX-AM | Mt Vernon | Paducah-Cape Girardeau-Harrisburg | 940 | Talk |
| WDXR-AM | Paducah | Paducah-Cape Girardeau-Harrisburg | 1450 | Talk |
| WKYX-AM | Paducah | Paducah-Cape Girardeau-Harrisburg | 570 | Talk |
| KLID-AM | Poplar Bluff | Paducah-Cape Girardeau-Harrisburg | 1340 | News/Talk |
| KWOC-AM | Poplar Bluff | Paducah-Cape Girardeau-Harrisburg | 930 | Talk |
| KSIM-AM | Sikeston | Paducah-Cape Girardeau-Harrisburg | 1400 | Talk |
| WMAY-AM | Springfield | Champaign & Springfield-Decatur | 970 | Talk |
| WMT-AM | Cedar Rapids | Cedar Rapids-Waterloo-Iowa City-Dubuque | 600 | News/Talk |
| KBUR-AM | Burlington | Davenport-Rock Island-Moline | 1490 | Talk |
| KCPS-AM | Burlington/West Burlington | Davenport-Rock Island-Moline | 1150 | Talk |
| KFAY-AM | Farmington/Fayetteville | Ft. Smith-Fayetteville-Springdale-Rogers | 1030 | News/Talk |
| KFOR-AM | Lincoln | Lincoln & Hastings-Kearney | 1240 | Talk |
| KLIN-AM | Lincoln | Lincoln & Hastings-Kearney | 1400 | News/Talk |
| KMAJ-AM | Topeka | Topeka | 1440 | Talk |
| KSSZ-FM | Fayette/Columbia | Columbia-Jefferson City, MO | 93.9 | Talk |
| KFRU-AM | Columbia | Columbia-Jefferson City, MO | 1400 | Talk |
| KWOS-AM | Jefferson City | Columbia-Jefferson City, MO | 950 | News/Talk |
| KWIX-AM | Moberly | Columbia-Jefferson City, MO | 1230 | Talk |
| KZRG-AM | Joplin | Joplin-Pittsburg | 1310 | Talk |
| KZYM-AM | Joplin/Webb City | Joplin-Pittsburg | 1230 | Talk |
| WCAZ-AM | Carthage/Keokuk | Quincy-Hannibal-Keokuk | 990 | Talk |
| KHMO-AM | Hannibal | Quincy-Hannibal-Keokuk | 1070 | News/Talk |
| WBBA-FM | Pittsfield | Quincy-Hannibal-Keokuk | 97.5 | News/Talk |
| WGEM-FM | Quincy | Quincy-Hannibal-Keokuk | 105.1 | Talk |
| WTAD-AM | Quincy/Hannibal | Quincy-Hannibal-Keokuk | 930 | Talk |
| WDYE-FM | Dyer/Dyersburg | Jackson, TN | 94.3 | Talk |
| KBTM-AM | Jonesboro | Jonesboro | 1230 | News/Talk |
| KBIZ-AM | Ottumwa | Ottumwa-Kirksville | 1240 | Talk |